Tuesday, Feb. 7, 2023
6:30 – 8:30 p.m.
James Bridges Theater
In a 30-minute documentary, BIKING WHILE BLACK: CONTINUING TO RIDE THROUGH DECRIMINALIZATION, DISENFRANCHISEMENT AND GENTRIFICATION incorporates narratives to dig deeper into solution-based storytelling and features the actions being taken by some of our leading Black bicyclists and BIPOC community-based organizations. Cast members are paving new roads to tackle the myths, the community safety conditions in Los Angeles, and celebrating Black joy on two wheels. Black and BIPOC lives continue to have an unseen connection to the realms of hope and resilience. Some of the key revelations that were spoken of during our interviews were on uplifting and educating our youth to become leaders and navigators in bicycling education and mechanics, safety education, and engagement, paired with mobility justice advocacy. The film connects these perspectives to transportation planning through speaking with agencies on the need to acknowledge, hire, and collaborate with community leaders who have been doing the work to help keep their multi-generational community members safe and informed. This second episode expands on the nine-minute short film, BIKING WHILE BLACK: HOW SAFE ARE BLACK LIVES BICYCLING?
Post-screening discussion with director and activist Yolanda Davis-Overstreet, moderated by UCLA ITS Equity Research Manager Adonia Lugo.
More information: https://www.bikingwhileblack.com/
Panelists
Yolanda Davis-Overstreet
Yolanda Davis-Overstreet is a graduate of the Urban Sustainability Master's Program at Antioch University. Her community service and consulting work revolve around community organizing and mobility justice, with a focus on pedestrian safety in communities of color. She is the founder of Ride in Living Color, a bicycling and mobility justice advocacy initiative that was started in 2011. Yolanda is a proud woman of color, mother, activist, and emerging social-justice filmmaker.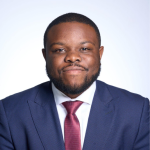 David Price
David Price serves as the current Director of Racial Equity for the Civil + Human Rights and Equity Department within the City of Los Angeles. In this role, he leads the Empowerment and Equity team, Peace & Healing Centers, Reparations Advisory Commission, and employs a policy equity analysis across City programs and policies. Prior to joining LA Civil Rights, David worked under Los Angeles Mayor Eric Garcetti, overseeing the Mayor's Interfaith Collective and Mayor's Youth Council, as well as organizing and delivering resources to hard-to-reach communities. David was born and raised in South Central Los Angeles.
Rev. Patricia Strong-Fargas
Rev. Patricia Strong-Fargas was born in Jacksonville, Texas, and is a proud mother of two and grandmother of four. She is a graduate of California State Dominguez Hills, and went on to complete her master's degree in Biblical Studies at Bible Believers College & Seminary. Currently, Patricia serves as a pastor and community activist. She is a founder of Mother's Against Hazing and an active member of PUSH (Parents United to Stop Hazing), Faith for Safer Streets, and many other impactful local organizations. Across all of her work, she brings a passion for serving others and fighting for equality and social justice.
Adonia Lugo (moderator)
Cultural anthropologist Adonia E. Lugo was born and raised in traditional and unceded Acjachemen territory and now lives and works in traditional and unceded Tongva territory in Los Angeles. Adonia began investigating transportation, race, and space during her graduate studies at UC Irvine, when she co-created the Los Angeles open street event CicLAvia and the organization today known as People for Mobility Justice. Since receiving her doctorate in 2013, Adonia has applied her research on "human infrastructure" in sustainable mobility advocacy and helped to define the concept of "mobility justice." Currently, Adonia is the Equity Research Manager at the UCLA Institute of Transportation Studies, a core organizer of The Untokening, and a recent appointee to the California Transportation Commission.