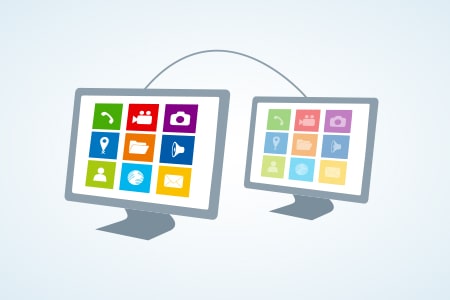 Luskin Remote Desktop is available for all Luskin graduate students (Social Welfare, Urban Planning and Public Policy) for Luskin class work only.
Current lab users can access their accounts remotely via Remote Desktop Services.
Remote desktop services requires the user to authenticate with the campus UCLA VPN system before connecting. Click here for more information on UCLA's VPN. For detailed information on how to connect to remote desktop services, see the PDF below.
All NEW and RETURNING students must fill out the  Luskin Access Request Form to extend accounts into the 2021-2022 school year. Due to COVID restrictions, the PHYSICAL Luskin Computer Lab is not available at this time. [New Hours Coming Soon]
Software Available on RDS
| NAME | VERSION | DESCRIPTION |
| --- | --- | --- |
| Adobe Acrobat | | Application to view, create, manipulate, print, and manage files in Portable Document Format |
| Adobe Creative Suite | 6 | Family of products intended for professional print, web, interactive, and mobile designers. |
| ArcGIS | 10.x | Program for desktop geographic information analysis and mapping. |
| AutoCAD | Latest | Application for 2D and 3D computer-aided design and drafting. |
| Chrome | Latest | A freeware web browser developed by Google. |
| FileZilla | Latest | Open-source (GNU GPL) FTP client for Windows, Mac OS X and GNU/Linux. |
| Google Earth | Latest | A virtual globe, map, and geographical information program. |
| IBM SPSS | 24 | SPSS (Statistical Package for the Social Sciences) is a comprehensive, integrated system for data manipulation and statistical data analysis. |
| Microsoft Edge | Latest | Microsoft's Internet browser program for accessing the World Wide Web. |
| Microsoft Office | 2016 | An integrated suite of applications from Microsoft which includes Word, Excel, PowerPoint, and Access. |
| Mozilla Firefox | Latest | Mozilla Firefox3 is our mature, integrated application suite that includes browser, email and newsgroup client, chat client, and an HTML editor. |
| Notepad++ | Latest | Source code editor and Notepad replacement that supports several languages. |
| R | Latest | R is a language and environment for statistical computing and graphics. |
| SAS | 9.4.1 | The SAS System is an integrated suite of software for enterprise-wide information delivery functioning on four data-driven tasks common to virtually any application-data access, data management, data analysis, and data presentation. |
| Sophos | Latest | Sophos Anti-Virus protects your network, desktop and even remote laptop computers from the latest viruses, Trojans, worms, and spyware. |
| SketchUp | 2017 | A 3D modeling program for a broad range of applications such as architectural, civil, mechanical, film and video game design. |
| Stata | 15 | Stata is programmable, statistical software for Windows. |
| VLC Media Player | Latest | Open-source media player that supports many audio and video compression methods and file formats. |
| Windows Media Player | Latest | Windows Media player is an all-in-one player for audio formats and video formats. |
Reset your Luskin account password
How to reset your Luskin Account password:
UCLA Library CLICC Virtual Desktop:
STUDENTS are also encouraged to use the UCLA LIBRARY CLICC Virtual Desktop which has a wide array of software available for computing resources.  CLICC service allows users with an internet connection and computer to access a CLICC Virtual Desktop loaded with a number of programs using ONLY their UCLA Logon ID. This system can be used at anytime and by ALL UCLA Students for general and class use.
Click here for more information: UCLA CLICC Virtual Desktop
This CLICC service allows users with an internet connection and computer to access a CLICC Virtual Desktop loaded with a number of programs.
You can view the Software List to see which software is accessible online through CLICC Virtual Desktops (indicated in the "CLICC Virtual Desktop" column).
Note: CLICC Virtual Desktop is not maintained or supported by Luskin IT